Top Ten Speaking Strengths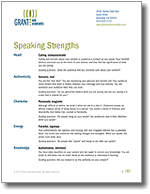 Identifying and capitalizing on each individual's key strengths as a speaker are central to our philosophy of training at Grant and Associates.
We are very pleased to offer you our list of Top Ten Speaking Strengths. Simply complete the form below to receive your copy by email today. You're one click away from receiving your complementary copy!